Description
Alpha R35 GTR Carbon Fiber Dash

You have seen it in World record setting Alpha Race Cars like the OB Prestige Auto Alpha Queen, and the first GTR to the 6 Second milestone, Alpha G. Now this extremely unique racing component is available to the public. Introducing the Alpha R35 GTR Two Piece Carbon Fiber Dash. This dash is custom fit with loads of real estate to install switches, modules, and displays. Its light, saving you a lot of weight. When it comes to racing you know every ounce counts.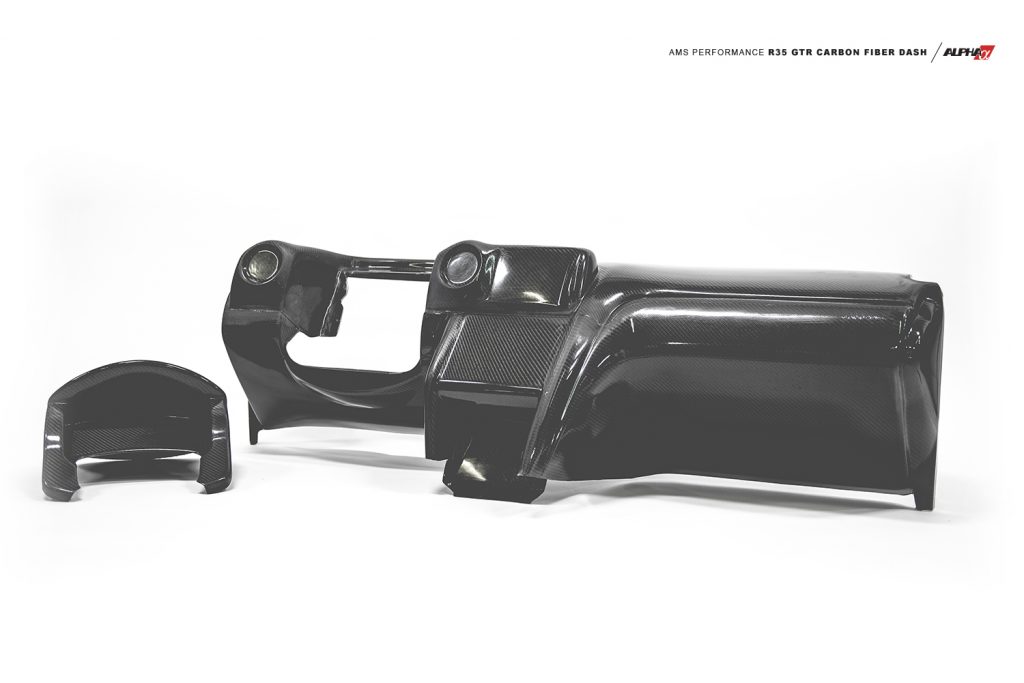 The Alpha R35 GTR Carbon Fiber Dash is made from a mold taken from the factory dash. It is for that reason that the Alpha CF Dash has an OEM-like fitment. All of the factory electronics and vents have been deleted giving you total freedom to set up the dash in your GTR race car exactly as you want. The dash consists of two pieces. There is the main dash and we included an adjustable steering console hood. The construction of the Alpha R35 GTR Carbon Fiber Dash is what makes it superior.
The dash is a "Race Light Build" which means that it is a super light weight and intended for serious track use. The Alpha Carbon Fiber GTR dash is constructed of pure carbon fiber and weighs in at a feather light 8 lbs total. The dash features a 2×2 carbon fiber twill. The interior of the dash is backed with 3 layers of carbon fiber. It is reinforced with super strength gussets in high stress areas and then vacuumed infused which results in the ultimate R35 GTR dash. The gel coat is sprayed directly into the mold which then can be buffed or cleared over. AMS recommends professional installation by a qualified body shop.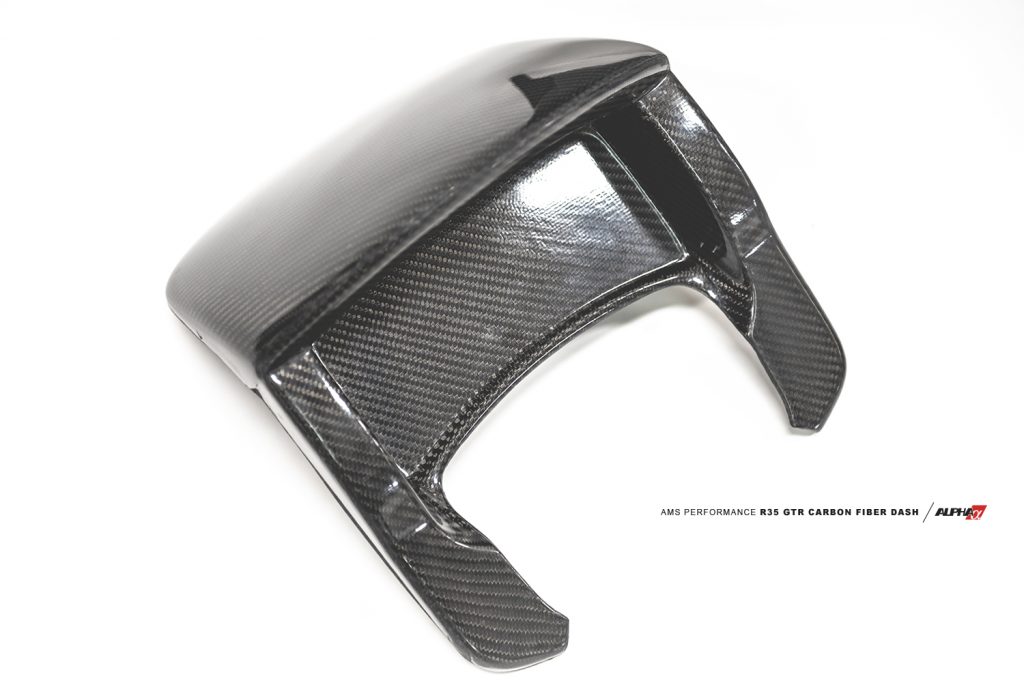 Be the R35 GTR driver to beat! Order your Alpha R35 GTR Carbon Fiber Dash today! 
 
Features
---
Factory OEM-like Fitment

All Vents and Electronic Interfaces have been Deleted

Two Piece Part – Main Dash and Adjustable Steering Hood

Race Light Build – 8 lbs total

Super Light Weight Intended for Track Use

2×2 Carbon Fiber Twill Construction

Backed with 3 layers of Carbon Fiber

Reinforcing Gusseted in key areas

Vacuumed Infused

AMS Advises all Users of Carbon Fiber Dashes to use a Matte Finish

AMS R

ecommends Professional Installation by a Qualified Body Shop
Applications

---
Please allow up to 3-4 weeks for carbon fiber products that are not currently in stock. Please contact AMS for an updated stock check.

Due to the products size you will need to

CALL IN FOR A SHIPPING QUOTE

.


AMS recommends professional installation by a qualified body shop.